A Note from Linda

In 1973, I was the very first female admitted to the Los Angeles Chapter of the PTG, Piano Technicians Guild. At that time, I was the third woman in the country admitted to the Guild. Breaking the glass ceiling was not easy.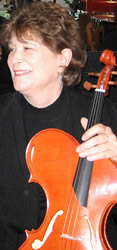 In college, I majored in music. I studied theory, history, and orchestration. Following graduation, I was searching for a profession in the field of music. The art of piano tuning and rebuilding opened up a whole new world for me.

To enter, I apprenticed with Jerry Berens, a Master Piano Technician. The general rule is it takes 5 years or 1000 pianos before gaining the requisite experience to gain admittance. The piano is an incredibly complex instrument. There are more parts in a piano than in an automobile.




My appreciation for music coupled with a great ability to work with my hands has taken me into an occupation that I truly enjoy. Every day I meet new people with pianos that need "attention." I enjoy trouble-shooting, finding, and fixing annoying and frustrating problems that emerge. I take great pleasure in rebuilding an old piano from top to bottom, making it better that it was originally.
Another joy in my life is the Community Women's Orchestra in which I am the principal violist. In addition, I am currently serving as the President. The energy and enthusiasm of this group of women is unbelievable! Each year one of our concerts is held at Davies Symphony Hall. Playing on-stage at Davies is a true thrill for both me and all the women in the orchestra!!

Email: itune88@comcast.net

View the Service Area